In addition to being able to post classes, products, memberships and other events on the online registration site, you can now publish faculty information. A faculty listing page lists all of your faculty members (instructors, admins, etc.) alphabetically, while a faculty detail page is a page where you can post an instructor's bio, contact info, and any classes and private lessons they are teaching. In addition, a student can submit private lessons inquiries from the instructor's detail page and see the full list of classes the instructor teaches: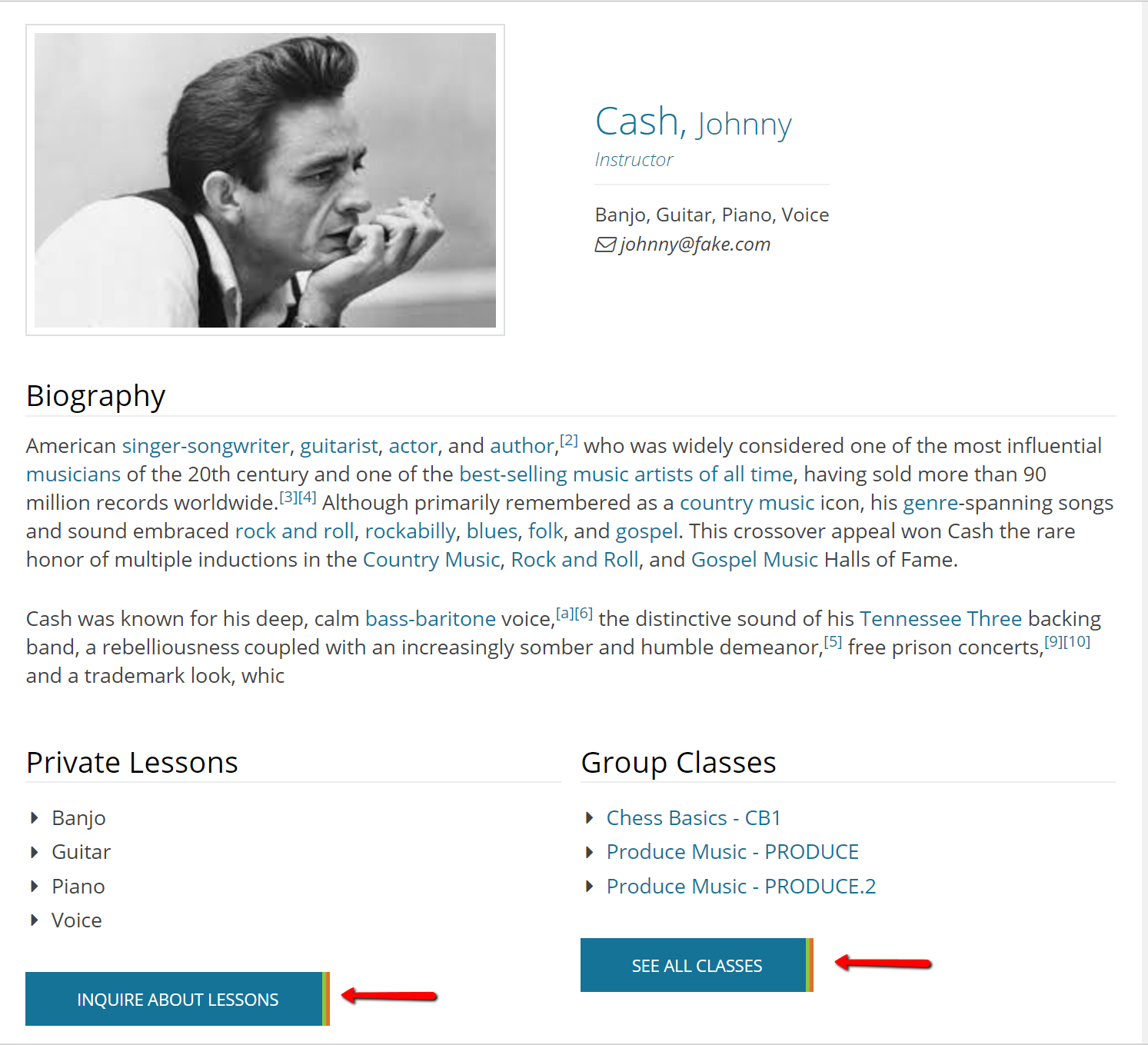 Follow these steps to get your Faculty pages published.
Add Link to Headers on Public site
On the Navigation Menu, select Set Up > Online registration site
Click the CSS Templates tab
Scroll down to Edit your Site Header HTML
Right below the "Contact us" element add "<li><a href='/#Faculty'>Faculty</a></li>" and Save. You can use any term you want for Faculty by just editing the text between > and <
This will add a "Faculty" link to the header of your online registration site.
Select Faculty to Show Online
On the Navigation Menu, select Staff and select the instructor to Show Online
Click the Details tab and Employee Information
If your instructor doesn't have an image already, we strongly recommend you upload one. If you don't have an image of the instructor, a general image of an instrument or group class can also look engaging.
Clickto Edit
Enter bio information in Description
Switch Show Online to Yes
Click to Save
Publish Faculty Pages
On the Navigation Menu, select Set Up and Online Registration
Click the Faculty tab
Clickto Edit
Select Publish Instructors to show your teaching faculty only.