Let's go over what an invoice looks like and some different views/options that are given when selected. We'll go into what each view looks like as well as some of the actions we can take on the invoice.
"Medium" view
The default view when first loading up an invoice. We have displayed here an UNPAID invoice with a class found on it. One of the first things you'll notice is the outlay of the fees and a condensed view of how fees are displayed. What this view shows is basic information such as the class, fees associated, and any pertinent information related to it. This view is not too different from what we're accustomed to on the classic page.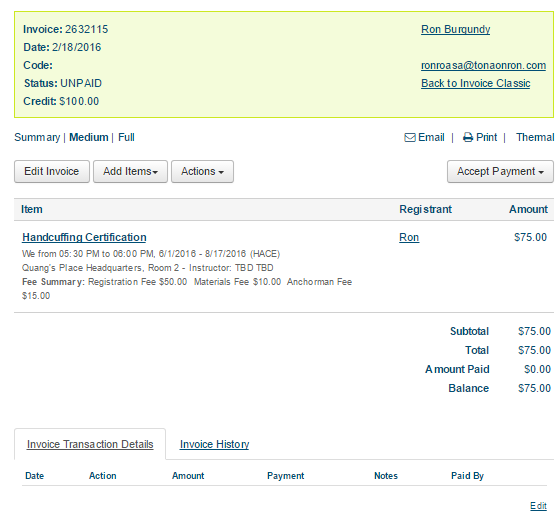 "Summary" view
In this view, one of the biggest differences you'll notice is that all information besides the name of the class is hidden. This is a great feature when either trying to pull up a quick list of the registrant and what they're enrolled in. This is also useful for organizations that have multiple items found on their invoice. You still have access to view the details of the class or student by clicking on the name. If you're looking for a condensed view of just the item, registrant, and amount, this is the view to look at.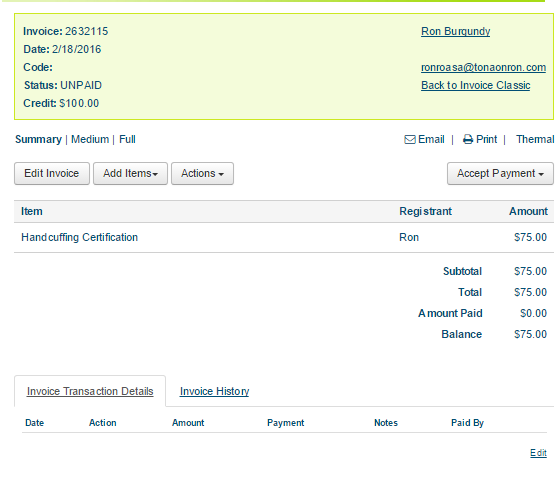 "Full" view
In this example for the "Full" view, I've went ahead and added a discount to the invoice. What this view allows you to see are any adjustments, discounts, or refunds to the invoice item. Another thing you may have notice is that the amount of the invoice item now reflects the discount included. With this view, we can plainly see how the discount is applying to the invoice item, how much is left, and a proper subtotal.