To use the Transaction report to verify payments, follow these steps:
Select Reporting from the Side Menu.
Select the Financial tab and select Transaction Report.

You may either filter by certain time periods or by condensing it to Between Days.

Under Payment Type, select Only Valid Bank Transactions. (This will limit the results to only transactions tied to your merchant account.)

Select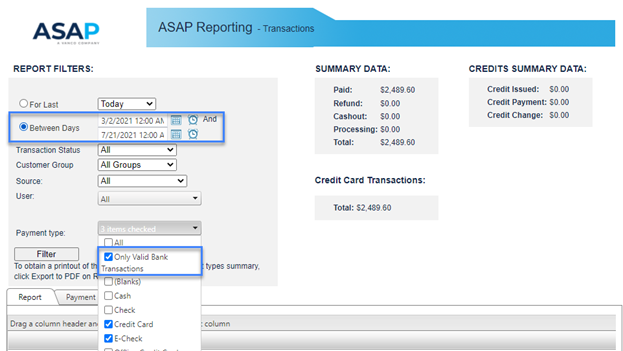 In the Summary Data box, Paid is the amount of incoming cash and Refunds shows the amount of refunds issued. The total should be the net amount of money deposited in your account. If you are off verify with the data using the details of the report.
To determine what was paid for, you can run the Transaction Totals For All Activities and use the CC column of payment method for the allocation of those funds against items within ASAP.
If I have a merchant account that settles at midnight (e.g. 12:00:00 AM), to balance to January 15, I would enter the date range as 1/15 and time = 12:00:00 AM TO 1/16 and 12:00:00 AM. Use the next day's date in the second date box because you want to capture all transactions that occur on 1/15, including those that occurred at 11:59 PM.
See this article as well for additional information.