Prerequisite: To make changes to an invoice, the Edit Invoice Amounts feature must be enabled for your user type. On the Navigation menu, click Set Up, click User access, and then click the User Access tab. Select your user type and scroll to Core Financials. Click the arrow to expand the options and ensure Edit Invoice Amounts is Active.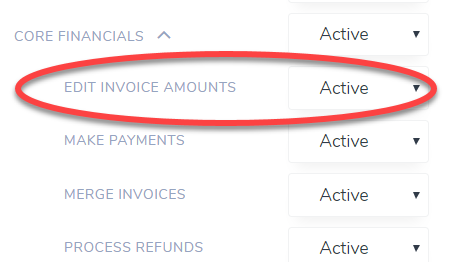 Now you can adjust an invoice amount.
If you are not already in the invoice, locate and open the invoice.
TIP: A quick way to locate the invoice is to use the Search feature at the top of the page. Select Invoice from the list and then type the invoice number or the registrant's name.

On the page menu, click Edit ().
NOTE: An edit box displays next to the item amounts you can adjust.
Next to the item you want to adjust, click in the edit box and type the new amount. After you enter the amount, ASAP displays an Adjustments section on the invoice.
In the Adjustments section, enter a name and a reason for the adjustment.
Click .
Confirm your decision by clicking .
The item amount is adjusted, the invoice subtotal is adjusted showing the new balance, and the action is captured on Invoice History tab.