You can remove items from an invoice as long as there are no payments allocated to the item. If the item you are removing is a class, the registrant is dropped from the class but the class will remain otherwise the same.
PLEASE NOTE - we do NOT recommend you use this method to drop a Private Lesson student. Removing the Private Lessons here will not remove them from the Instructor Hours report.
To drop a Private Lesson student,
please follow the Cancelling Lessons instructions.
To make changes to an invoice, the Edit Invoice Amounts feature must be enabled for your user type. On the Navigation menu, click Set Up, click User access, and then click the User Access tab. Select your user type and scroll to Core Financials. Click the arrow to expand the options and ensure Edit Invoice Amounts is Active.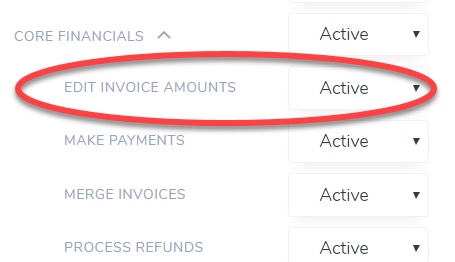 Now you can remove an invoice item.
If you are not already in the invoice, locate and open the invoice.
TIP: A quick way to locate the invoice is to use the Search feature at the top of the page. Select Invoice from the list and then type the invoice number or the registrant's name.

On the page menu, click Edit ().
NOTE
: All removable invoice items display a trash can next to their name

.
Next to the item you want to remove, click .
Click .
Confirm your decision by clicking .
The item is removed from the invoice and the action is captured on Invoice History tab.