We have upgraded the process by which 3rd party and outreach organizations (aka Company) directly enroll their students into your ASAP classes. The following outlines the steps to access a Company account and enroll and manage class participants.
Logging In
You can now go directly to the main website, click Login and choose the Company Log In tab to log into your company account. Your Company ID, Email and password are the same.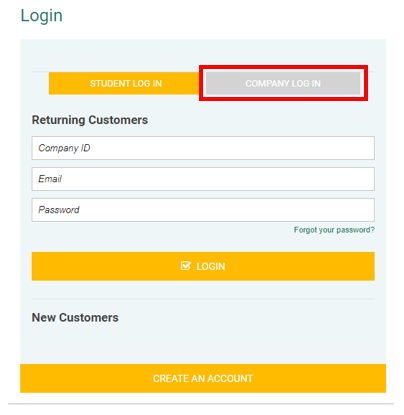 Managing the Company Account and participants
Once you are logged in you will see the information for your Company Organizer as well as your Company Participants (aka students).
From here, as the company organizer, you can change your password or upload an image.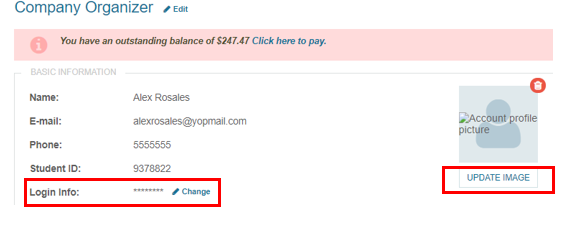 You can also see a list of your current participants, as well as make edits to their information if necessary.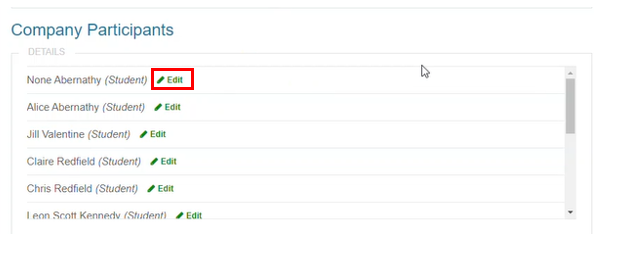 And you can add new participants from this screen.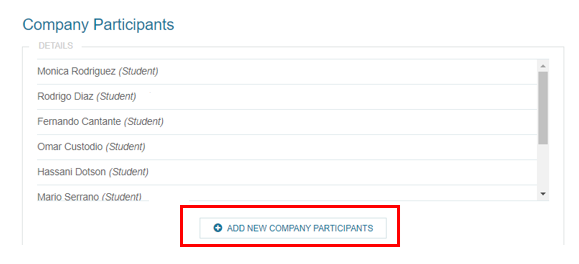 Click the Add New Company Participants button. You will be taken to a new screen where you can enter your new participants.
Managing Company Classes
The home page will list all your company courses in the left menu.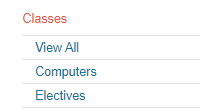 Clicking on View All will list all the classes that are available. You will notice that there are filtering options across the top to help you narrow results if needed. Or you can search for a class directly.
Enrolling Participants in Company classes
Navigate to the class you wish to enroll participants in.
Click the Register Now button
This will bring up a module that allows you to select the participants for the class.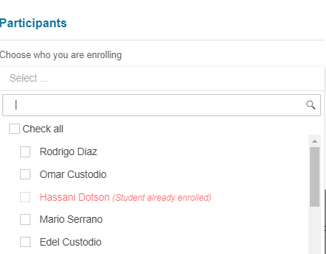 You can Check All or select individual students. Students that have already been enrolled in the selected class will be highlighted in red and will not be available to select again.
You do have the ability to add new participants at this stage as well.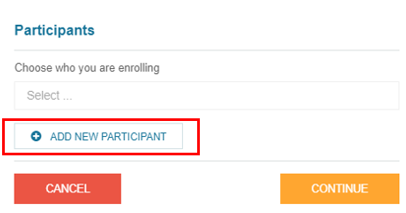 Click Continue
Then you will see a success message :)

If you have additional classes you would like to sign up for, click Continue Shopping.
If you are done, click View Cart and Check Out which will take you to the cart. Here you will be able to review the participants and classes selected.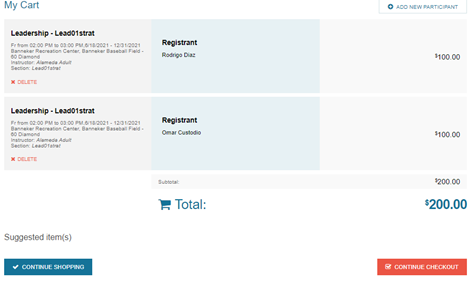 You can Continue Shopping from here or you can Continue to Checkout.
Enter your payment information and complete the transaction.
If you have the option "Pay Later" you will see a confirmation page.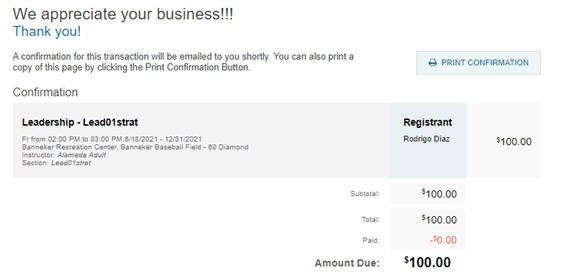 To pay the invoice later, you can access the invoice by clicking My Account > Billing Info. All invoices are listed here, showing their payment status.