The ASAP Private Lessons module allows you to create a comprehensive private lesson inquiry process. We offer two ways for a student to sign up for Private Lessons on your public site.
1 – Via Inquiry form. This allows you to place them with appropriate instructors. The inquiry form is customizable so that you can easily select which information you would like the user to provide as well as which questions are mandatory prior to inquiry submission.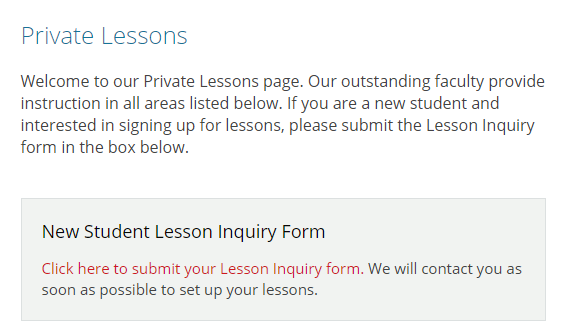 2 – Via Lesson Packages. This allows your students to purchase a set of lessons, packaged by you. You will then just need to assign their teacher and set up the lesson schedule.
On this page, we discuss Lesson Inquiries only. You can learn more about setting up Lesson Packages here.
Creating the Inquiry Form
1) Go to Private Lessons in the left nav
2) Select "Inquiry Form"
3) This will take you the Private Lesson Form Builder (L). From there, you can choose which of the options are displayed (check/uncheck boxes on left) and which ones are Required before submission (check/uncheck boxes on right).
4) Before you select Inquiry Information, you will need to select which Personal Information about the inquiring student you would like to retrieve.
5) You may choose to collect other information, including Demographic Info, Medical Info, Education Info and Emergency Contacts. In this example, the user has chosen to not select any of the options.
6) You will then select any Lesson Inquiry questions you choose to ask your users.
7) You may add custom questions in the bottom section, "Other." To do this, type the question in the text area and then select if the answer should come via a textbox, dropdown or file upload. If you select a drop-down, you must also include the drop-down options.
8) Click "Save Form" when done.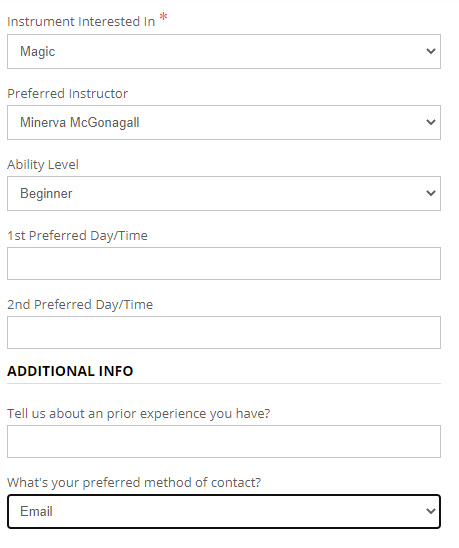 Please review our accompanying articles on adding and adapting content of fields on the Inquiry Form.
Managing your Inquiries
1) Go to Private Lessons in the left nav
2) Select "Lesson Inquiries"
3) This page defaults to all 'New' inquiries, sorted by most recent first. Use the Status filters at the top of the page to find all inquiries.
4) Click the tiny arrow in the left border to expand the inquiry.

5) Select Instructor (optional) - You can keep their preferred instructor or select a new one. If you want, you can change the status to Assigned. This will put an alert on the teacher's page that they have a new student coming in. assigned to assign this student to the Instructor selected, or change the instructor.
6) When you're ready, click the Enroll link in the top gray bar to go to the Private Lessons Details page and enroll your new student.
Tip: you can download all the inquiries from the two links at the top of the page. Over time, this data becomes an invaluable resource as you can track the lessons, days, even teachers who are requested most often and plan your future offerings accordingly.