The Memberships module allows you to create memberships for Programs or Facilities. Programs allow you a great deal of flexibility. Review your options and details in our Memberships Overview pages or watch our Membership tutorial video.
11m 27s
Set Up Memberships
On the Navigation menu, click Memberships
Click the in the upper right corner
Create your Membership program

Select Type - select Program if this is not related to facility access; select Facility and Facility type to create membership access of a space
Enter a membership Name and Description
Click Show Online if you want customers to purchase your Membership on your Public site.

Auto-Renewals

Select Auto-Renewal to have the membership automatically renew

Select option to automatically charge the credit card on file OR automatically email a renewal invoice to the member

Select Manual Renewal to have the membership expire without renewing

Membership Fees

Membership for:

Individual - membership fee covers a single individual
Family - membership fee covers all members of the account

User Type - select the Customer Type this membership is for. This is usually the Default Customer Type - Regular student
Fee duration - the period the fee covers. This is usually Annual
Fee Amount - enter the fee
G/L Account - select the GL account associated with the Membership Fee

Click Add Fee
Seriously, don't forget to click Add Fee (otherwise the fee will not apply to the membership)
Expiration Date options

Check either of these boxes to enter the date/day the membership expires on.
Select option to pro-rate the fee if applicable.
Click Save

Click Save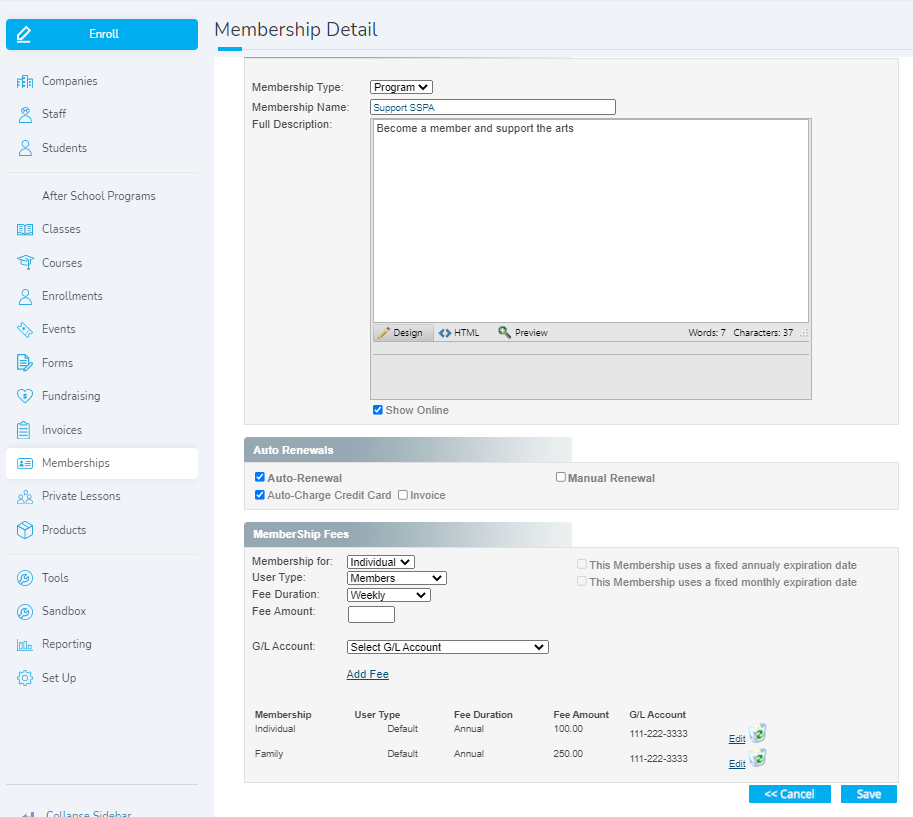 Manage Memberships
On the Navigation menu, click Memberships
Click to filter by Membership status and type.
Click the to reveal the Menu options

Member List to view all members
Archive will archive the Membership
Enroll to purchase a Membership
View Details to view/edit the Membership set up details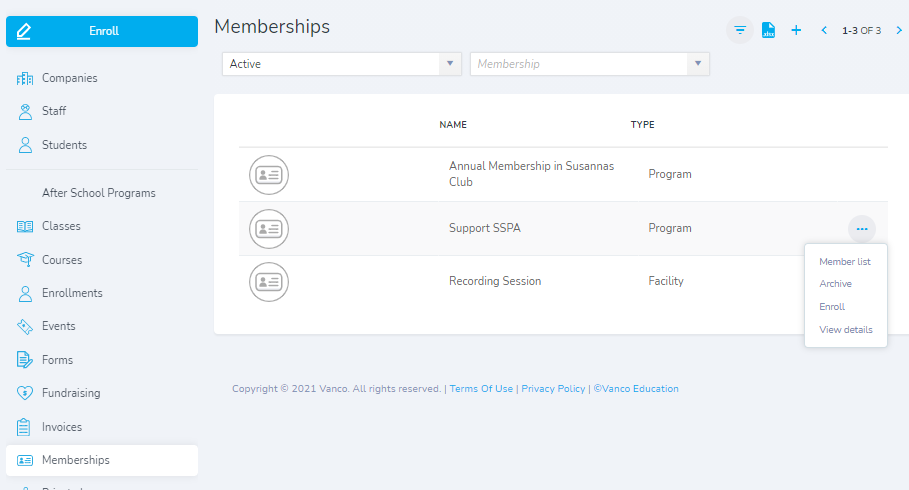 Manage Members
On the Navigation menu, click Memberships
Click Member List in the ellipsis of your membership to view the individual members and their status.
Use the filters to identify the individuals by payment status or enrollment status.

If you click Cancel, the member will be instantly, without confirmation, and removed from the Membership. (If you do this by accident, please contact Support for help) .