The Features section lets you customize the individual features of your lesson offerings.
Set Up > Features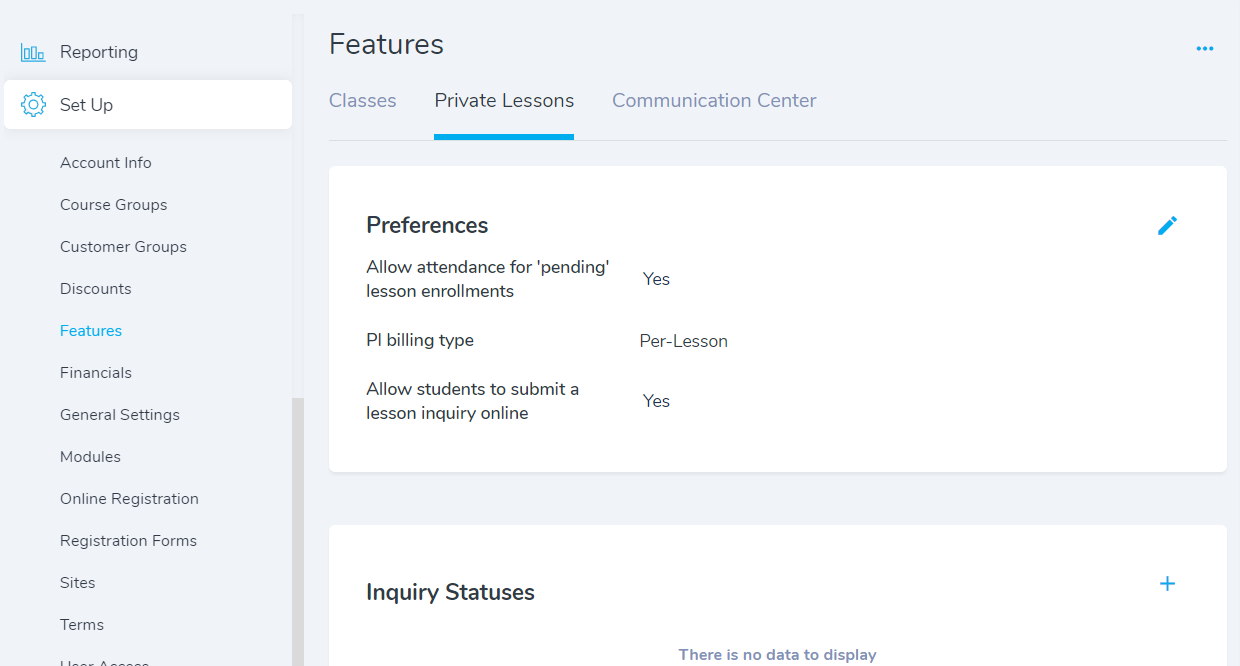 On the Navigation menu, click Set Up, and then click Features.
Click the Private Lessons tab.
Click the edit pencil icon to make changes.
Select your Preferences

Pending lessons are lessons that have not yet been paid for. By selecting No, you will prevent your instructors from taking attendance on a lesson that has not yet been paid for.
PL billing type - This is Per-Lesson by default and is used when students pay a set amount per lesson. Monthly billing is when students pay a set amoutn per month (and is not related directly to the number of lessons they take).
Allow students to submit a lesson inquiry online - By selecting Yes, you are adding the Lesson Inquiry form to your Private Lessons page on your public site.

Inquiry Status - you can create custom statuses if you have additional review steps or people for new students. More info
Private Lesson Attendance Types - create attendance types your teachers can select. More info
Fee Tiers - If you charge a different rate for different teachers for the same length of lesson, you can create different Fee Tiers to manage that. More info
Private Lesson Packages - select Yes to offer Lesson Packages for purchase online. More Info
Lesson Length - enter the different lengths, or durations, of lessons you offer, 30 Minutes, 45 Minutes, etc.
Inquiry Form fields - enter the options to display in some optional fields in your Lesson Inquiry form


Ability - enter options to choose about their abilities, such as Beginner or New Student
Desired Dates - enter options to choose about when they want to start, like Soon, Next Term
Styles - enter options to choose about the type of lesson, like Jazz, Blues, Classical and Rock.