Use this handy Checklist to prepare your system for a new set of Private Lesson enrollments either entered directly or created using the Rolling Lessons method.
This checklist assumes that you have set up your Subjects and Private Lesson courses and that your teachers are all assigned to their subjects.
Checklist
1 Configure the Time Period
Set up default Number of Lessons per time period

In Set Up, select Terms.
Click the + to create a new Time Period or click the ... menu in each item to Edit an existing one
Add the default Number of Lessons for this time period (this can be changed during individual lesson creation if necessary).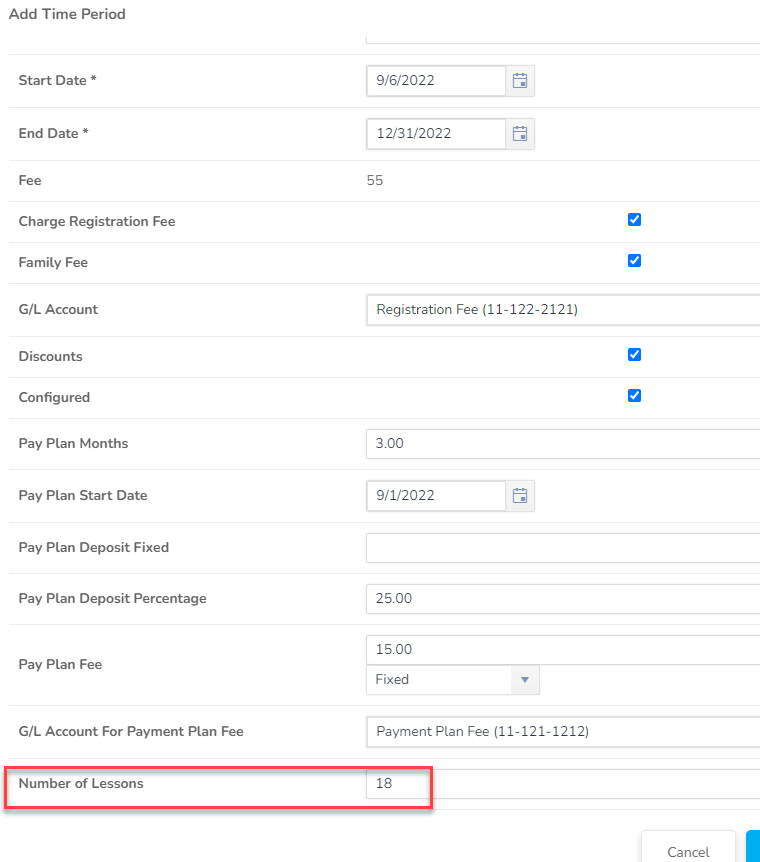 2 Configure Payment Plan (not required)
In Set Up, select Terms > Payment Plans
Click to toggle options to Yes:

Allow Payment Plans - to add payment plans to your ASAP system
All students to choose payment plans online - to offer the Payment Plan option as students pay their invoices

In Set Up, select Terms > Time Periods
Select ... in the Time Period you wish to Edit
Enter:

Pay Plan Months - the number of payments, including deposit, and the Pay Plan Start Date (first scheduled payment date).
Deposit and Pay Plan Fee are optional.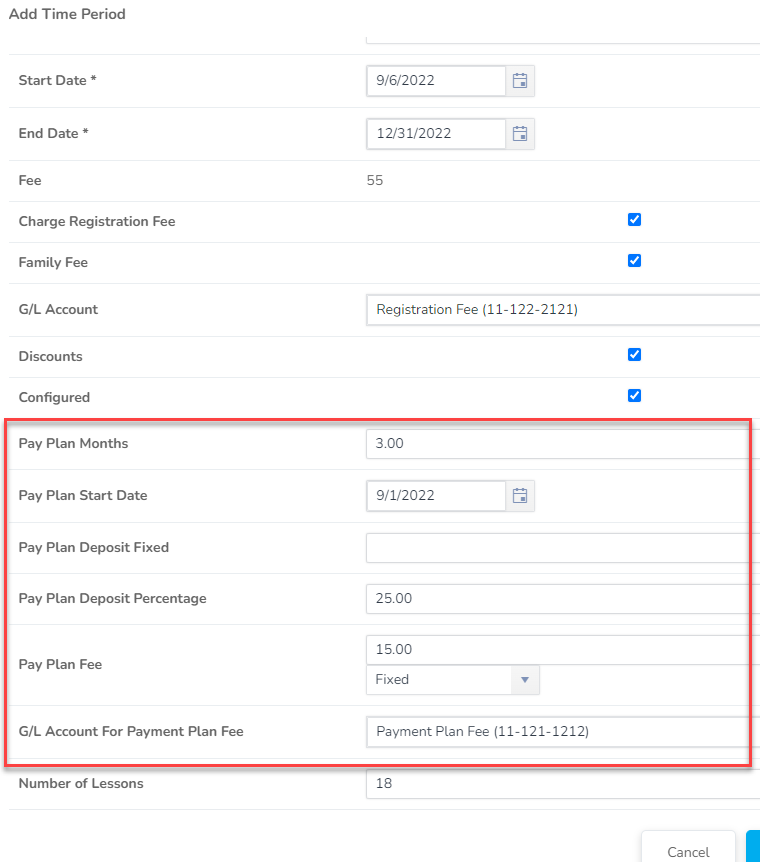 When a student selects this payment plan online, they will pay a deposit at checkout and then two additional charges will be made on 9/1/22 and 10/1/22.
Learn more about Payment Plans
3 Calendar, Holidays and skip days
Make sure any dates that you are not teaching during the time period are entered. Remember you can add a holiday to skip a group class but can still schedule private lessons.


4 Lesson Fees
For Rolling lessons, the fee tiers and durations must be the same in both the time period you're rolling to as the time period you're rolling from.
5 Discounts (not required)
Make sure any discounts applicable in the new time period are set up as they will apply when invoices are generated if applicable.
If you are re-enrolling Existing Students using the Rolling Lessons method
6 Current Student Enrollment Checks
The schedule in the Lesson Info panel on the Private Lesson detail (the meta-data) will be copied to the new time period. If you know that a schedule needs to be changed, we advise that you include the enrollment in the roll, and update the new enrollment with the modified schedule in the new time period before generating the invoice.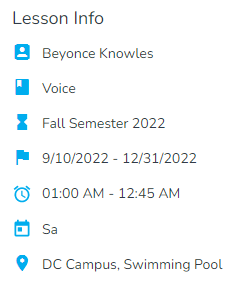 7 Exclude some enrollments
If you know there are some enrollments that should not be rolled to the new time period, check the box to exclude them.
In Private Lessons > Enrollments select the lesson to exclude
In Details, click the to Edit this page
Check Turn off ability to roll this Lesson to another Time Period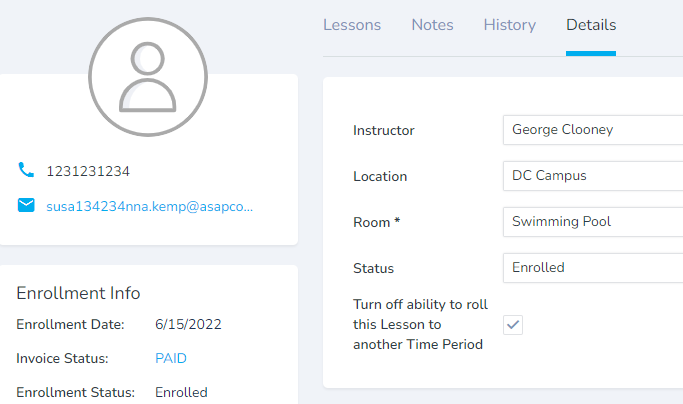 8 Check Change Requests
Check all Change Requests to ensure that you have got the latest information on who should be rolled (only roll those who will likely have the same schedule in the new time period). Any current student can submit a change request at ANY time through their online account, My Activities tab, using the Request Change link below their Private Lesson item. The option is also included by default in the Private lesson Roll email.
In Private Lessons > Enrollments
Select Change Request filter
Learn more about Change Requests
9 Re-enroll Email
Review the re-enroll email to ensure that it includes the correct information. Consider adding a reminder to the student to check and update any information in their family account online. Do not edit any field or content between the dynamic tags ## unless you wish to remove them.
In Tools, select Communication Center > Templates
Select Email Template Name = PrivateLessonEnrolment
Click Edit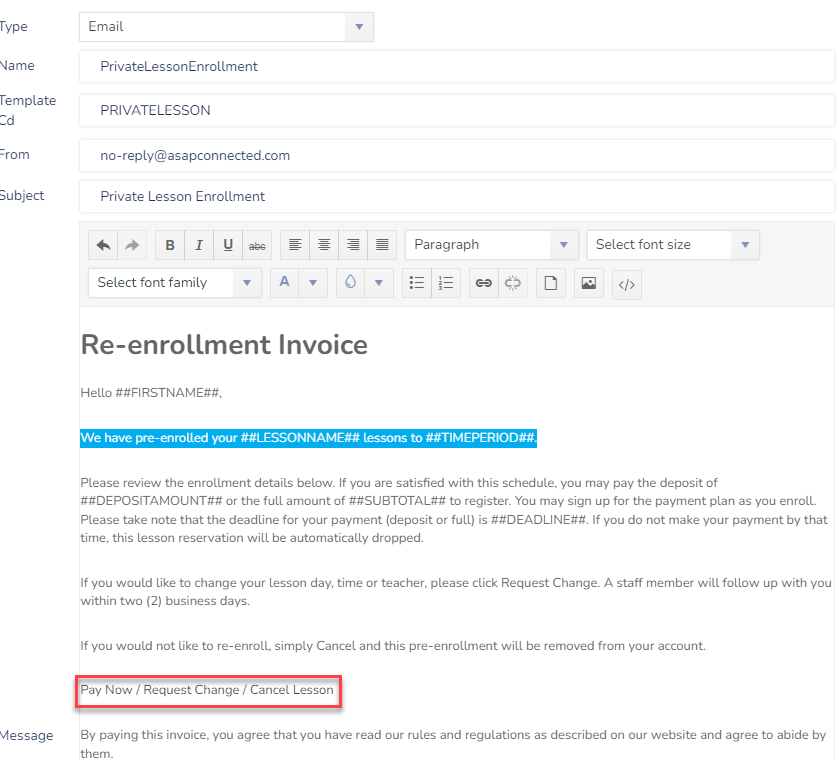 Here is the email received by the student, highlights show dynamic content inserted through the ##xxx## tags.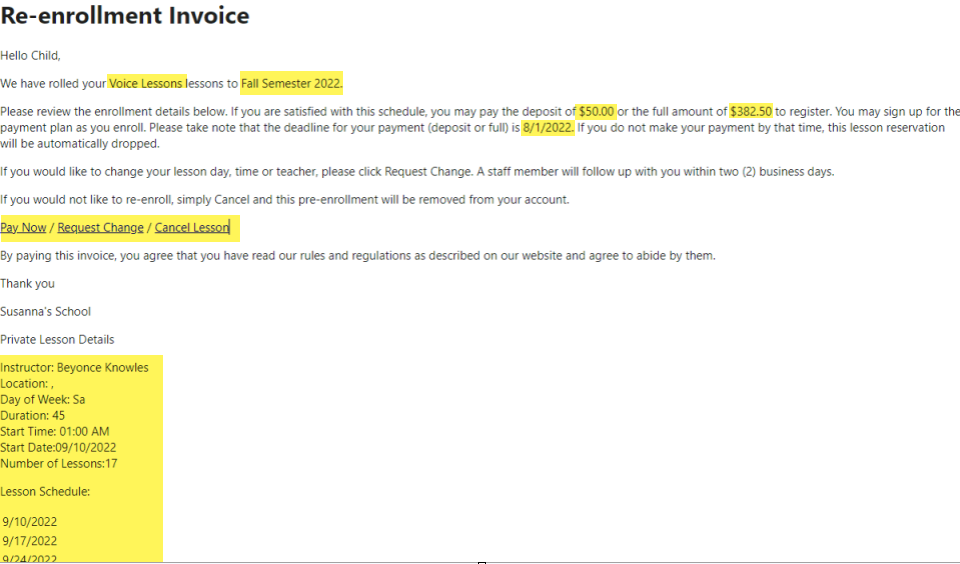 IMPORTANT TO KNOW
Cancel Lesson option




This link removes the lesson and invoice and all trace of the lesson being created. This means that you cannot track who has cancelled their lessons. If you want to track cancellations, we recommend you delete the Cancel Lesson option and replace it with an email address to send a cancellation to.

Up to 100 only!!
Please note the maximum number of lessons to roll at a time is 100. Use filters such as day or subject to create groups with fewer than 100 lessons
Re-enrolling with Instructor Availability
If you have entered Instructor Availability, during a direct enrollment the system alerts you if the teacher is unavailable. When rolling lessons using the Roll Lessons tool, lessons WILL be created in the new time period even if the instructor is marked as unavailable.

Students with a Balance


If your policy is NOT to re-enroll students with an outstanding balance, you can exclude those students from re-enrollment by going to the Private Lesson Details page and checking the option to Turn off ability to roll this lesson to another Time Period.
After roll, remember to check change requests regularly!