We have a few small but impactful enhancements in Classes this month.
ASAP 4 Enhancements
Mass Enroll in Classes
If you're re-enrolling students in a new class, now you can do that from within the Class page. Its incredibly quick and easy and will save hours of manual re-enrollment. To use this:

go to the class and select the students to enroll
from the Class Roster ellipsis menu, select Mass Enroll
search for, then select, the new class to enroll in and click Enroll Students
students will now show as Pending in the new class!

Currently, the Mass Enroll tool will not apply to classes with Custom Questions and/or Recurring Billing on them. We are working to deploy these elements soon.
Get class enrollment data more easily
We have added a Quick Export tool to the inner tabs of classes - Demographics, Questions, Grades and Credits. From any of these pages, you can export the data on these tabs directly into an Excel spreadsheet making it much easier to manage these important sets of data.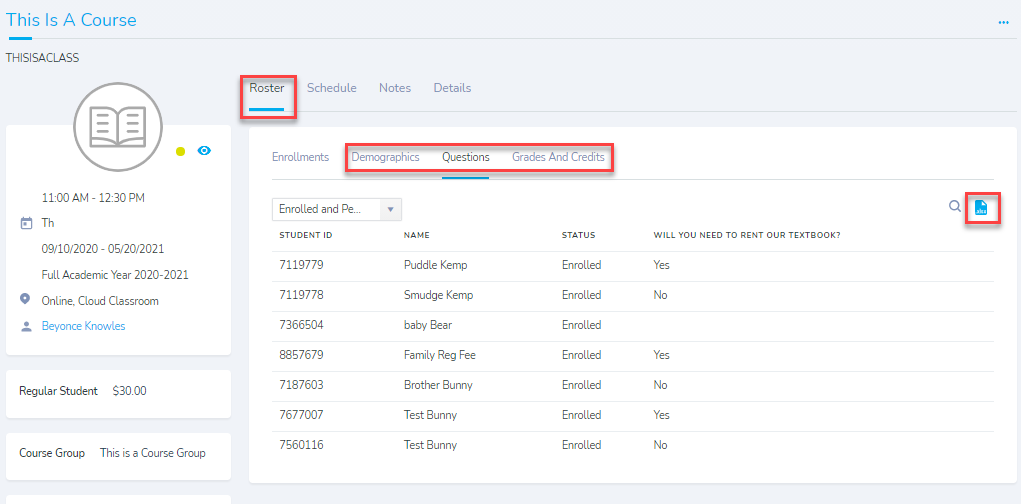 While we're here, make sure to explore the Demographics tab which allows you to customize the data included in this tab, such as Emergency Contacts and Allergies, especially useful in Summer Camp season.
Manage Waitlists
We've added the order in which students were waitlisted so its easy for you to see, and sort, the waitlisted students.

Improvements
If you charge taxes, these can now be refunded along with any other fees.
We've added an alert if you're enrolling a student in the Admin side when a student has the last available slot in their Shopcart to stop you from 'stealing the very last slot!'
We have added the Recurring Billing management tool to Set Up > Financials > Recurring Billing tab
For CA Adult Schools
We have added four new choices to the Reason for Existing field and to the SPS (Student Program Status) TOPS export report:

Active Duty in armed services
Incarcerated
Deceased
Long term medical treatment
Fixes
We have fixed an issue with Staff Archive tool
We've improved the recipient filters performance when filtering on Private Lessons and Events
We have fixed a few small issues with Payment Plans
We fixed a bug that changed some waitlisted students to enrolled when they made a payment online.
We fixed an issue that was causing some class question responses to not be saved when enrolling the student onto an existing invoice.
Some ASAP users were experiencing issues on Go related to time zones which we have now resolved.
We've fixed a bug where the Registration Fee didn't apply to Drop In enrollments via the Go site.