Happy Back to School month! It really is the most wonderful time of the year and we hope you're having a great time listening to the sounds, sites and yes, smells, of your students and instructors back together. 
Do you want to know every time we post new Release Notes? 
Just follow the link to the Updates and Release Notes section 
and then click the Follow button. 
Take our ASAP User Survey please
We want to hear from you!  We're gathering data to help inform our roadmap planning for the next few years and to learn more about your experiences and future planning too.  Please complete this brief survey when you have a moment. We, and hopefully your future selves, appreciate it :)
If you have anything urgent you want to communicate with us, please email support@asapconnected.com to get some attention and response. 
Enhancements
Here are some good new things to bring joy to your day.
New All Donations Report
Just in time for fundraising season, we've released a new report that shows all donations made during a date range. This combines donations from all your campaigns so you can see them in one place. Don't forget you can drag a column to the header bar to group the report results by 
As usual you can subscribe to it in Reporting > Order Queries by clicking Subscribe in the ... menu on the right. Remember you can also just bookmark the full URL for real easy access :) Once you've subscribed, the report will be in Custom Queries and if you truly madly deeply love it, you can pop it in your Favorites by clicking the handy star on the left. https://app.asapconnected.com//reports/CustomQuery.aspx?ReportID=28805&returnToA4=1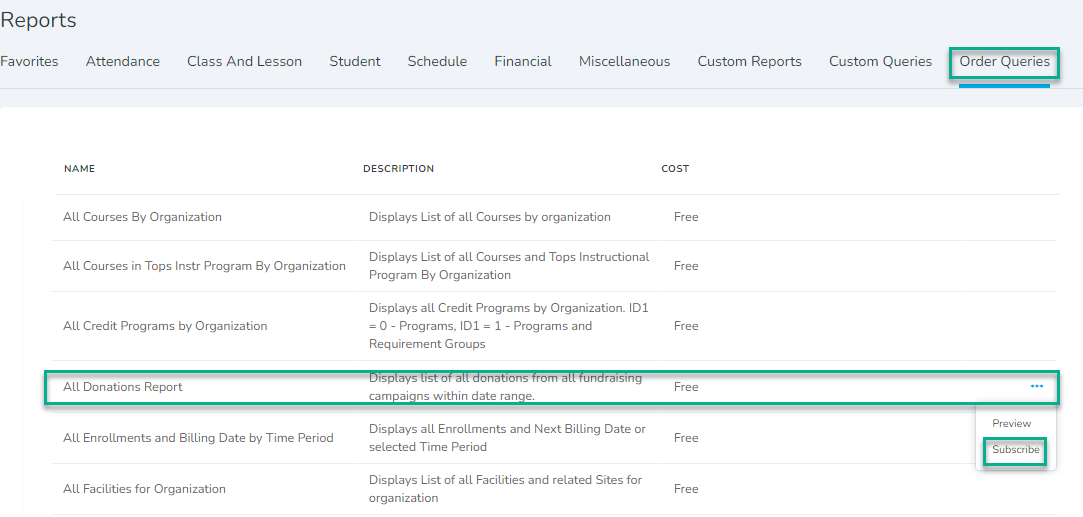 New
Now, when a Recurring Billing class is enrolled in but there's no Saved Payment method, the billing schedule will automatically be set to Invoice. 
Fixes
We resolved an issue on the Student Portal in Billing > Future Payments tab where there was an error on the dates when the payment plan was an Invoice.  
The Recurring Billing schedule was failing if the first billing date had passed when the invoice was created. Not any more :)