Happy Summer folks :) Hope you're staying cool. We've been busy and have lots of updates, fixes and enhancements for you.
Do you want to know every time we post new Release Notes? 
Just follow the link to the Updates and Release Notes section 
and then click the Follow button. 
Enhancements & Fixes
REPORTS
Tax Statements/1098 Reports
These reports are available for any activity that is eligible for payment through a Flexible Spending Account.  We have updated this report to include organization name, parent name, IDs etc. 
Revenue Detail with Payment
We've added the following fields to this report to help with identifying deferred revenue:

Class End Date
Activity Type = Class/Lesson
Course Name
Student Email
We've restored the functionality from the Student Page to the student's email address.  Now when you click their address, the Email dialogue screen opens and you can send a message direct from that screen.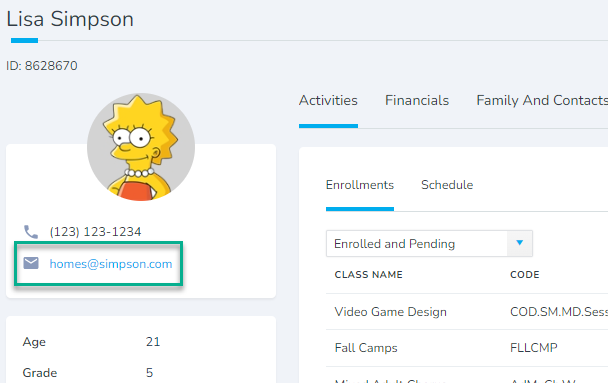 Go/Your Public Site
Emergency Contacts and Authorized for Pick up fields are now permanently available to allow your students to add and edit this information as necessary. 
CASAS Tops Updates
We've added some additional reasons in the Exiting the Program field:

Deceased

Active Duty in Armed Services

Incarcerated

Long Term Medical Treatment
Class Recurring Billing payments
We have changed the way the system assigns a payment method to a Recurring Billing fee.  Prior to this change ASAP automatically assigned the payments to the first Valid Saved payment method.  With this change, the payer and admin can manually select the payment method as the time of enrollment. 
Email Templates
We have also made changes to system Email and SMS Templates and users are now prevented from changing Template Name, Template Type and Template Type Code. This will prevent any changes being made that prevent the templates from being sent. 
Miscellaneous
Fixed an issue with complimentary Memberships not displaying correctly in A4. 
When moving from tab to tab on the Student Account page, we've added a Warning to remind you to Save changes. 
We're restored the SMS Opt In/Out option on the Student Account page.
Corrections to Student > Attendance tab which was having a moment calculating attendance hours correctly. This is now resolved. 
We fixed an issue preventing a Donation being made when there was html code in the Short description box.