Here's what's been happening at ASAP
New Look Login
Update: Our QA testing revealed some errors for some users for the new login page and, as a result, we opted to postpone the full release rather than risk some login issues at this busy time of year.

Coming soon, you will see

a new look to the login page

to provide increased security to protect your students' data and manage transition to ASAP 4. This means that all users of the ASAP platform, so Administrators and Instructors, will log in with our org ID and

their email address and not a username. Of course, this email address must be the one that they have in their ASAP account. This change will also allow us to offer single-sign on features in the future when applicable.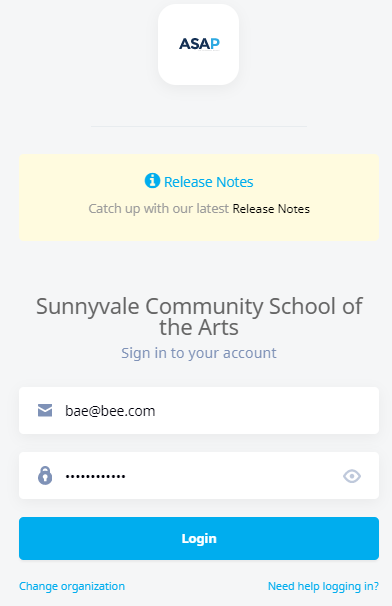 ASAP 4
The SMS module has received a couple of enhancements

We've added a character count to show you when your message exceeds the maximum allowed
Students who have Opted OUT of SMS never appear on an SMS recipients list

We've removed the auto-complete field from the Search bar, making it easier to see your search options and the rest of the page :)
If you remove a discount from an invoice, you will now see that action recorded in the Invoice History
We completed work on the iframe pages, linking A3 and A4 functionality.
ASAP 4 and 3
Private Lessons
On the Lesson Inquiry page, we closed a gap for Instructor profiles that use the Hide Other Instructor options. Instructors can no longer view other teacher's in individual Inquiries as the Instructor field is Inactive.

On the Lesson Detail page, instructors using the Hide Other Instructors setting will no longer be able to switch to another instructor on the Lesson Details page.


Go Site
We resolved an issue where the password security requirements were not applied when password was changed.